I have some REALLY exciting developments happening with my coding studies, but I am going to be disciplined and wait until the project is actually complete before I shout about it. I cannot tell you how difficult this is, considering it's taken months to get to this point.

In the meantime, I can tell you what I am hoping to do with my (non-existent) spare time. I have recently volunteered to become a "
sighted guide
" with 
The Guide Dogs for the Blind Association
! This was inspired by the volunteering my Mum does in this role, and from personal interests. When I lived in Eastbourne, I worked with adults who have special needs, and I absolutely loved it – it was my most fulfilling role to date. I don't want to return to that line of work full-time, but felt that volunteering in this way would be a great opportunity to still get involved with that kind of thing, and help those in my local community.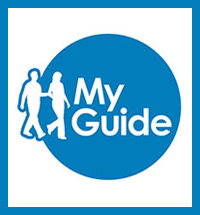 But there is a 'selfish' aspect to this. Having a positive impact on someone else's day is hugely beneficial to me too. It helps me keep my spirits up on the dark days of my PTSD / anxiety attacks. Knowing that no matter what struggle I am facing, I am still able to help someone else, can be a real lifeline.
I did my first day of training in 
Shrewsbury
 yesterday. I got to use the trains, which I really enjoy, and don't get to do nearly often enough since I'm studying at home. The town itself is so beautiful that it's well worth a visit in its own right. The staff I met with were absolutely lovely – so passionate about the work they do, and knowledgable about their roles and a lot of other areas that the organisation is involved with. I am really looking forward to the rest of the training, and then getting stuck in to the role of being a 
My Guide
.
If you have any time or pennies that could be put to better use, please pop along to the Guide Dogs website and see how you can 
get involved
 with this wonderful organisation.