Last week was a really productive week! I sent the first logo ideas off to one client (for his gym) and finalised some changes for 
Ahloki
, which is a long term project with so many amazing ideas happening. I love working on projects with so much heart.
This week I am back to the prototyping of my Stream 1 project, and this is where it gets a little fun for you! I want you all to play with my prototype as it currently stands, and let me know your thoughts, good and bad! It is key for designers and developers to get feedback on their work. Just because we think it works or makes sense, by no means guarantees that anyone else will think so. And we don't design for ourselves – we design for 
you
 – so 
you
 have to be happy with it.  🙂 
The website (currently only in mobile format) will be for a nail technician who goes to her customers, rather than the customers coming to a salon. This website allows them to see what she is about, see what colour gels are currently available, learn more about the product she uses, and contact her for bookings.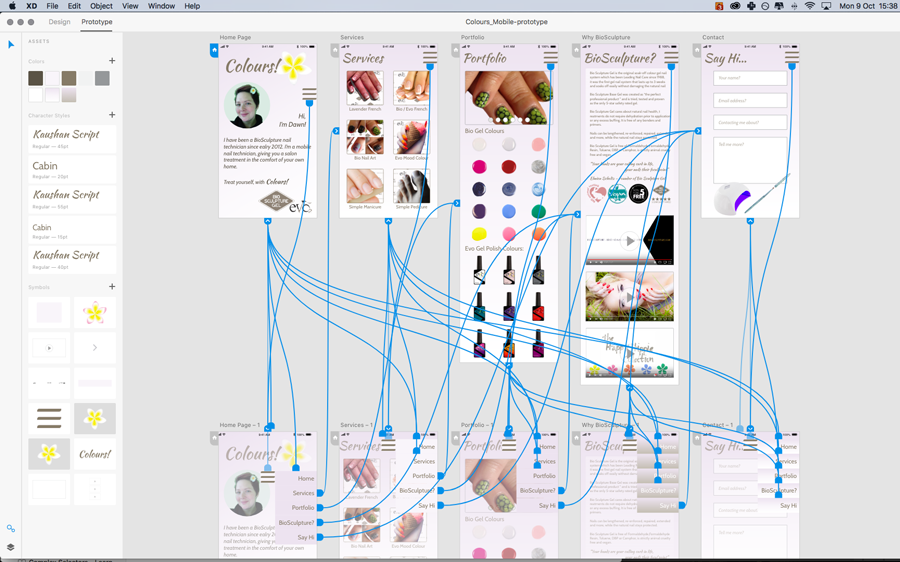 At the moment all the prototype can show is what each page looks like (with a few different colour options on the menu) and how you navigate between them. Please have a go, and let me have your feedback – if you have an 
Adobe Creative Cloud account
 (free) you should be able to comment directly on each page of the prototype.